The Fastest & Friendliest Plumbers in Chula Vista

Plumbing issues can be some of the most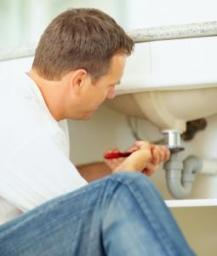 sudden and least pleasant problems to appear in a household. Pipes can burst without much warning, toilets can overflow, drains can clog, and shower heads can lose water pressure. All of these things can wreak havoc on the quality of life for those living in the house, and therefore need to be taken care of immediately. The longer water sits after pipes have burst, the more likely it is to cause mold, mildew, and bug infestations. There is also the extreme inconvenience of not being able to use a sink, toilet, shower, etc. for any length of time. It can seem like a nightmare when these problems arise, but thankfully there are trained professional plumbers in Chula Vista who can handle even the toughest of plumbing problems.

You need to look no further for service than our Chula Vista plumbers. Our technicians are always on time and professional. They provide quality plumbing and HVAC services that will last for a long time. There are many "fly by night" companies around that operate with low ethics and poor work standards. You can rest assured that our Chula Vista plumbing contractors will be there for you to do the work correctly and efficiently, to ensure that future problems are kept to the absolute minimum that is possible.
---

Expert Plumbing Inspections & Repairs

Our Chula Vista plumbers know just what to look for in order to diagnose any situation properly and get your system back on track. When our professionals arrive at your location, they will conduct a complete inspection of your plumbing. They will advise on what needs to be done to remedy the situation, and will get to work as soon as possible. If for any reason you are not completely satisfied with the job provided by our plumbers, simply give us a call and we will be happy to come back out and troubleshoot the problem. You are our first priority, and you can count on us for reliable and efficient customer service.
---
Why DIY? Call In The Professional Guys!!

While it may be tempting to save a few dollars by doing a job yourself, it is highly recommended that you hire a professional plumber to ensure that safety precautions are taken and that quality work is accomplished. There may be a few things here and there that most homeowners can do, such as tightening PVC pipe connections and shutting off water lines during an overflow. However, keeping your plumbing up to code becomes very important when try to sell your home. Our plumbers are licensed insured and bonded to make sure they always meet the code when doing repairs or installations. Call in a licensed Chula Vista plumbers today! We service the 91909, 91910, 91911, 91912, 91913, 91914, 91915, and 91921.

---
Protecting Your Home From Gas Leaks

One of the most dangerous things that can happen in a residence or commercial structure is a gas leak. This is why natural gas, which is usually odorless, is given its distinct smell when it is delivered by a utility company. The sooner a gas leak is noticed and fix, the less chance there is of someone getting hurt or killed. Our Chula Vista plumbing contractors are adamant that you immediately contact us if you smell gas in an area that there shouldn't be any. If you know where the gas shut off is for your home or building, you should shut it off immediately. If not, you should advise all the people in the vicinity of the gas leak and vacate the area until the leak is fixed.
---